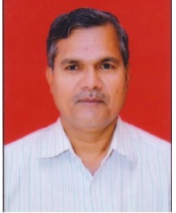 Vision:
 To be the most trusted department for students with high professional and social credentials.
Mission:
• To provide student with advance technologies and value based education to meet the challenges in the field of Electronics and Telecommunication.
• To motivate the students for entrepreneurship skills and higher education.
• To be committed for national & social objectives.
Prof. B. V. Gavali
HOD,Electronics and Telecommunication Dept.
K. K. Wagh Polytechnic, Nashik-3

About Department:
Keeping in view that Electronics will be the heart of fast moving era, the department of Electronics  established in the year 1983. In 2006-07,the department name is renamed as Electronics & Telecommunication. At Present, Intake of E&TC is 120. To improve new technical exposure with presentation skills,department has been organizing a national level Project Exhibition Cum Competition -  "Pro-Utsav". Nowadays, automation is at its highest peak. It is possible through development of Electronics & Telecommunication techniques. Afterall, Electronics & Telecommunication is emerging at the backbone of interdisciplinary.
Key Features:
1.Adequate & well furnished Infrastructure and State-of-the-art Laboratories.
2. MSBTE approved and highly experienced faculties.
3. Consistently Excellent remark by External Monitoring Committee of MSBTE.
4. Extracurricular activities in relation with various social awareness program.
5. Departmental library with large number of books.
6. MOU's with industries for industrial visits & guest lectures.
7. Departmental staff are always in touch with latest technological knowledge by attending industrial training and STTP. 
8. Consistently excellent academic result in MSBTE exam. (Rank holders in MSBTE examination in various subjects)
9. Membership of Professional Bodies like IETE, ISTE IEI etc.  
10. Sponsored and Patentable Projects by students.
11. Periodic Parent - Teacher and Alumni meeting.
Career opportunities:
With the evolution to computer age, Electronics and Telecommunication has transformed into the field that is inevitable, required by almost all the industries
Electronics is now part of our everyday life, from the mobile phones to television, computer and even the high end advanced satellite that are helping us for smooth life. They are also penetrated into other areas like health care, instrumentation, automation, remote sensing, signal processing & so many.
The electronic engineering student have innovative and independent thoughts, a necessity to create things, deep imagination and vision, aptitude and enthusiasm to learn along with logical reasoning. As a result, he has opportunities in the field of consumer electronics, IT industries, biomedical areas, power electronics, private and governmental sectors like DMRC, Siemens, Motorola, Intel, Texas, BHEL, ISRO, DRDO, WIPRO, HCL, TCS, BSNL, Indian Air Force, Railways, Indian Navy.
Hence, tremendous job opportunities will be available in this Electronic and Telecommunication field in present and in future also.  
Prof. B. V. Gavali
HOD, Electronics and Telecommunication Dept.
K. K. Wagh Polytechnic, Nashik-3