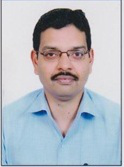 Vision:
To Develop Department as Nationally Acclaimed Center for Diploma in Chemical Engineering.
Mission:
Committed to groom students into Quality Chemical Engineers by imparting Technical Knowledge, Value Based Education, developing Enterprising Skills, Safe and Eco-friendly Outlook thereby contribute in development of Industry, Society and Nation
Prof. P. S. Bhandari
HOD,Chemical Engineering
K. K. Wagh Polytechnic, Nashik-3

PEO
Diploma Chemical Engineers will have ability to:
Identify, analyze and solve the problems in chemical industry by using First principles of physics, chemistry, mathematics and core chemical Engineering subjects.
Lead, motivate and supervise the team of workers to achieve organizational goals.
Pursue career and higher studies in chemical & allied sectors.
PO
PO1. Apply basic knowledge of mathematics, science and engineering to solve the chemical engineering problems. (Basic knowledge)
PO2. Apply program specific knowledge to solve core and/ or applied chemical engineering problems. (Discipline knowledge)
PO3. An ability to plan and perform relevant experiments and practices and to use the results to solve chemical engineering problems. (Experiments and practice)
PO4. Apply appropriate technologies and tools with an understanding of the limitations. (Engineering Tools)
PO5. Demonstrate knowledge to assess societal, health, safety, legal and cultural issues and the consequent responsibilities relevant to chemical engineering practice.(The engineer and society)
PO6. Understand the impact of the engineering solutions in societal and environmental contexts, and demonstrate the knowledge and need for sustainable development. (Environment and sustainability)
PO7. Apply professional ethics and exhibit responsible care behavior. (Ethics)
PO8. Function effectively as an individual, and as a member or leader in diverse/multidisciplinary teams. (Individual and team work)
PO9. Communicate effectively within organization and with society. (Communication)
PO10. Recognize the need for, and have the preparation and ability to engage in independent and life-long learning in the context of technological changes (Life-long learning).
PSO
Diploma Chemical Engineers will be able to:
Monitor/Handle the various unit operations and/ or unit processes and comply with quality, environment, health and safety aspects in industry.
Pursue higher studies in chemical and allied branches.
About Department:
Chemicals play indispensable role in our life. Every moment of life demand use of appropriate chemicals for making better living. Fuel like LPG, Diesel, Kerosene, LNG and CNG, Fertilizers, Agrochemicals, Pharmaceutical, Paints, Cements, Plastics, Flavour and Fragrance manufactured by chemical industries are the gift of chemical engineers to the mankind. To manufacture these items and offer allied services, there is great demand for chemical engineering. The institutions offering this course are very less. Out of all engineering seats at national level; less than 0.5 % of seats are for Chemical Engineering Course.
Understanding the scarcity and demand; the course was started in 1998. We believe in overall development of students and it is our philosophy that every student is like diamond, therefore all efforts are directed for polishing them so that there worth will increase and they will glitter everywhere they go.
A department has to its credit many success stories where complete transformation of an ordinary student to successful professional has taken place. Our efforts are very well recognized at State and National level. Chemical department has received so far a grant of around 15 lacs for arranging events, updating facility and networking with industry.
India's first revolution has been green revolution i.e. in agricultural; at present also India is set for another green revolution which aims for green manufacturing, i.e. production of material in ecofriendly , safe, and sustainable manner and at a cheapest cost. Chemical engineers will have lion share in this second green revolution. Chemical engineering is the backbone of new frontiers of scientific development i.e. Biotechnology and Nanotechnology.I hereby invite all aspiring stake holder to join chemical engineering and get benefitted by boundless career and growth opportunities and contribute by your knowledge in new frontiers of development mentioned above. I wish you good luck and better future prospects..
Prof. P. S. Bhandari
HOD, Chemical Engineering
K. K. Wagh Polytechnic, Nashik-3